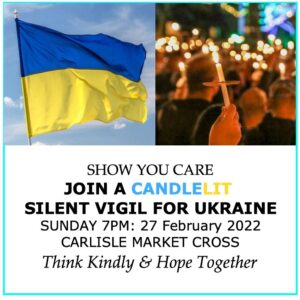 The silent vigil for Ukraine last night in Carlisle City Centre was about coming together and showing that we stand together.  I saw the pain and anguish in the faces of Ukrainians for their friends, families, and homeland.  The tears that didn't stop for some for over an hour. Over the years I have connected with many people from diaspora.
Larissa used to live in Carlisle before moving to Brighton. She came last night to Carlisle to be with her friends. We lit candles and we hugged. I tried to reassure her that this will not be tolerated.  But the fear in her eyes and other Ukrainians do not believe that. "Putin is an evil and heartless dictator who is intent on domination."
A young girl talks about her the stories her elders have shared and the unbearable truths of a man that they hate because of everything he is and stands for.
Last night Russians stood side by side with their Ukrainian friends. In defiance of Putin's actions.
Struggling to eat or sleep properly, Nadiya Yuriychuk shared the turmoil and deep distress of their homeland being invaded. We stand together. So angry that the inherent fear of voicing her words in case of retaliation doesn't hold her back. She speaks loudly and begs for help for her countryman, who stay to fight for their freedom.
Carlisle stands with the Ukrainian citizens in a silent vigil of compassion and support.
Saj Ghafoor attended the vigil last night and was there to support the people in Ukraine and the Ukraine community residing in Cumbria.  People of Ukraine have lost their homes, daily living and have left loved ones behind to cross the borders into neighbouring nations and seek safety.
It is the second largest country by area in Europe after Russia which borders to the east and north-east with the population of  43.6million people.