Mini Culture Bazaar

& Platinum Jubilee
Celebrate the Jubilee with us in Bitts Park, 10.30am-4.30pm on 5th June
You are invited to our Mini Culture Bazaar and Platinum Jubilee celebration!
With three days of workshops leading up to a special multicultural event in Bitts Park, there is sure to be something for everyone.
Wednesday 1st June
11am – 4pm
Join Helen Walsh from Delicate Stitches for a drop-in workshop for all ages. We'll be taking inspiration from the rich and diverse cultures of Cumbria to create our own beautiful and celebratory textile flags to take along to the Jubilee parade on Sunday 5th June.
Wednesday 1st June
11am – 4pm
Beautiful floral mandalas created by the local Indian diaspora. Can be added to by the public, using fresh flowers, glitters and powders. With thanks to Carlisle Indian Divas.
Friday 3rd June
11am – 4pm
Help Ali and Vicki from The La'al Collective bring their Giant puppet to life. The Riddling Giant puppet will be appearing at the Multicultural Parade and Jubilee Picnic in Bitts Park on Sunday 5th June, but he needs new clothes fit for a Queen! Come and help make him look the part using beautiful material to rip and tie.
Drawing with Michelle Russell
Thursday 2nd June
11am – 4pm
Michelle Russell, published author and illustrator of 'One Koala' and founder of The Activity Bus invites you to join her 'Making Memories'.
From 11am to 2pm, Michelle will be leading a drop-in workshop creating treasures to go in a special Jubilee presentation box.
From 3pm to 4pm there will be a special storytelling with Michelle, inspired by the workshops.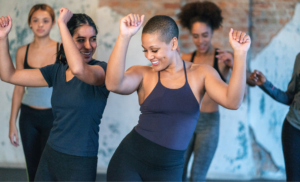 Bollywood and Indian Classical Dance
Thursday 2nd June & Friday 3rd June
2pm-2.30pm & 3pm-3.30pm
This workshop takes place in The Old Town Hall
Join dance instructors for short, 30-minute Bollywood and Indian Classical Dance workshops. This event requires booking and each session has limited availability.
Roll up, roll up! Meet the stupendous Astralio, the master of the ring at Astral Circus. Outside of his big top he's a gentleman juggler, a clown in a cravat, a balloon modelling maestro and much, much more. Here to entertain and delight you with a vaudeville charm that all ages will enjoy. Astral Circus will be performing from 11am.
The Laal Collective (TLC) is an arts organisation based in Cumbria. They work with communities to create art projects celebrating identity and sense of place, through collaborative and collective approaches. TLC have a firm belief that every participant has a creative spark.

The La'al Collective will be bringing several of their giant puppets to the Multicultural Parade on Sunday 5th June, alongside the Riddling Giant which is being created during half term as part of our Mini Culture Bazaar workshops.
Punjabi Roots Academy offer performances along with a wide range of Indian creative arts and music workshops. They will be leading an Indian Dhol drumming workshop and taking part in the Multicultural Parade.
More information is coming soon. Check back later!