Multicultural Cumbria gets a £350,000 funding boost on Ant & Dec's Saturday Night Takeaway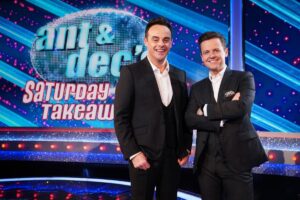 Multicultural Cumbria is proud to announce that we have been awarded £350,000 from the National Lottery Community Fund. The news was revealed to the nation by presenter Stephen Mulhern on ITV's Saturday primetime schedule before the main Lotto draw results in March 2021.
The funding award "will be a huge boost to the services and support which we are able to offer to multiple diasporas, enabling us to engage and empower hopefully many more people throughout Cumbria", says Multicultural Cumbria's CEO, Saj Ghafoor, who added "This grant – the largest we have ever received – will bring transformational changes to this area of the country. We are truly humbled."
Tina Borgia, Creative Director, added "In Cumbria, we come from numerous ethnic backgrounds and speak 70 languages. This type of funding support is what we have been wishing for, for the past 15 years."
"It has been a battle to get people to appreciate how diverse Cumbria is and for that reason investment hasn't been forthcoming." – Saj Ghafoor, CEO.
A former dancer who has a connective tissue disorder, Hypermobile Ehlers-Danlos Syndrome, Tina has worked with Multicultural Cumbria for the last 11 years. On learning of the grant, she said: "The grant will massively support the work which I am doing and hopefully encourage even more women from different diasporas to take part and enjoy dance."
The money will help to put the charity on a firmer footing and will go towards core costs of running the charity and increasing our capacity. Four part-time staff will be appointed, joining the two part-timers already employed. It will also help drive plans to set-up a long-awaited multicultural community centre, so that people can hold events and meetings and the charity is accessible to all. There are also plans for an international cuisine project and an international arts event, and other centres in the south of the county working in partnership with other groups.
Saj added: "There is still more money that we need to raise to be able to do everything we want, but this is a very big jump forward. Cumbria is very diverse, but people can feel isolated. The fact is we have more than 70 languages spoken in the county.
"We hold Culture Bazaars and over the last three years people from more than 50 different heritages have attended
"Growing up here and having my kids here, there was nowhere to go. I really hope this funding is that step toward having a place to call home where everyone can come, ethnic minorities and local communities."- Saj Ghafoor, CEO.
Professor Julie Mennell, Vice Chancellor of the University of Cumbria, said: "We are delighted to hear Multicultural Cumbria have received lottery funding, Their work, across our county, in celebrating and promoting cultural diversity, bringing individuals and communities together and in providing ongoing support and encouragement to those in need is of incredible value. This grant will help them continue this work and with further impact and reach."
Andy Beeforth, CEO of Cumbria Community Foundation said, "Congratulations to Saj Ghafoor and all at MCC. It's been a privilege to stand beside you for many years".