International Easter Club
                                        HAF Project
    The International Easter Club was a success!
The children had an amazing time.
The project was in partnership with iCan. And we were delighted to have our wonderful Jayshree Naveen doing International dance with the children and Story Contracting doing the STEM sessions.
We aimed to engage and encourage the children to be active, make new friends, learn new activities, explore culture and try international cuisines.
Many of them arrived as strangers and left as friends.
Everyday was different and it was wonderful to welcome smiling and excited children.
We had many children from the Diaspora groups from India, Pakistan, Nepal, Bulgaria, Turkey, Poland, Caribbean as well as our local Cumbrians.
The club encouraged them to participate in all activities such as 
rebounders,  dance, keeping fit, playing football, mindfulness, positive mindset, working as teams, Indian dance, discovering  cultures, learning new activities such as using chopsticks, making breathing buddies and a lot more!      
Some real favourites were crafts rocks painting,  making magic mindful jars, to doing pictures about what inspires them and writing positive words.     
Everyday there was a new International cuisine that was served in reusable tiffin boxes. They loved exploring  what they were going to eat as they opened the various sections of the tiffins. All food was consciously made taking food and nutrition into account and ensuring the children were served a hot and healthy meals.
It was enlightening to see the children feel comfortable and build confidence in engaging with each other. Each day they wrote down how they felt on our 'wall of graffiti' and it was superb seeing it build with positive comments and their visions.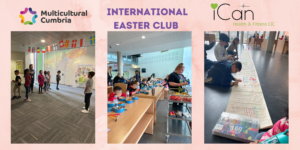 They also got their moment of fame with Border TV filming and asking them about their experiences.
They all enjoyed all the activities and told us how they can't wait to come back.
We will be doing this again in the summer, so watch this space!
Cumbria County Council Holiday Activity and Food Programme